Event
Management

Member
Management

Rota
Management

Songs
Management
Event
Management
Create a centralized calendar of events for your organization by defining single instance or regularly recurring events. Events have a location specified, can have custom attributes, and can have duties assigned to them for the purpose of rota management. Content for the events can be specified providing a centralized master copy of an events schedule.
Define single instance events for one-off special events
Describe regularly recurring events to automate routine event creation
Assign event locations with Google Maps links
Define the event organizer
Detail which duties are required for each event and see who is currently assigned
Plan the content for structured events by adding items, notes and attachments
View the event list in programs like Outlook 2007, Sunbird or Google Calendar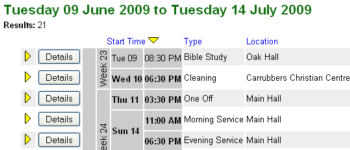 Next
Group
Management
Centrally define your organizational structure through a series of groups, separated if required by type or purpose. Groups might be defined for the purpose of assigning permissions, establishing a team of people who can fulfil a duty, or might exist solely to make use of the associated groupname@grouptype.example.com email addresses.
Centrally describe and manage your organizational structure
Provide maillists to simplify email based one-many communications
Supports delegated administration of groups to distribute and optimize admininstration costs
Specify permissions of who can join a group or list its members in accordance with your security requirements or preferences
Configure moderated joining for lists to further control who can be in a group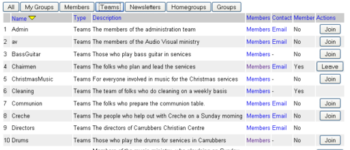 Next
Rota
Management
Duties can be created to describe a role and then associated with events. A team can be defined who can fulfil that duty, and a rota then authored to cover the assignment of that duty. The system can capture availability for the team and manage swaps with the help of "Get Swap" emails. User or duty specific rotas can be viewed within external digital calendaring programs such as Microsoft's Outlook or Google Calendar.
Define duties for all the roles required to facilitate your events
Detail which duties are required for which events
Assign arbitrary users to fulfil the duty or select from an associated team
Centralized swap management, including emails that highlight which team members might be able to help with the swap
Availability tracking to avoid assigning duties to team members who are unavailable for a known reason
View a customized calendar of assignments in programs like Outlook 2007, Sunbird or Google Calendar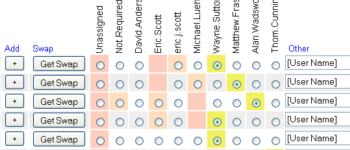 Next
Song
Management
A comprehensive database of songs exists for optional inclusion as items into the content of events. Full text search is possible, and song statistics are gathered to track how often each song is chosen. Integration with various presentation software packages also exists.
Search for songs by keyword in the song title or in its contents
Query what songs have been selected in a specific period at which events and by who
Synchronize the songs database with a desktop using the Subversion revision control system for use with song presentation software
Produce Song sheets for an event where song projection isn't an option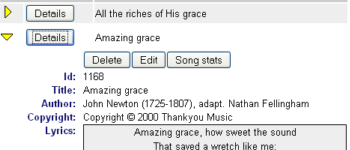 Next